The holiday season is just around the corner, and studies show that Americans significantly increase their consumption during the final two months of the year. In fact, the last three weeks of the year are notorious for having high rates of binge drinking and other public health issues.
At the Law Office of Lisa Pelosi, we understand that passing on drinks at holiday parties is neither fun nor enjoyable, so today's post features four reminders that can help you drink responsibly this holiday season.
While we hope that you do not have to navigate the legal system this holiday season, the Law Office of Lisa Pelosi can provide you with the legal assistance you deserve. Call or email our office to speak with an experienced DUI lawyer in New York City.
How to Drink Responsibly During the Holidays
Plan Ahead
Whether you will be going to a company party, Thanksgiving at a relative's home, or a bar with your friends and family, you should always have a plan in mind when it comes to your alcohol consumption and how you will get home safely.
If you will be visiting a bar or restaurant for a holiday party or get-together, for instance, see if the establishment allows overnight parking just in case you do not feel comfortable driving at the end of the night. If transportation is an issue, then see if you can ride with someone who is sober or use a rideshare application to get safely to and from the event. Never walk home at night, especially if you have been drinking.
Pace Yourself
Pacing yourself is a cornerstone of responsible drinking. As a general rule of thumb, limit yourself to one drink per hour. The following measurements equal one drink: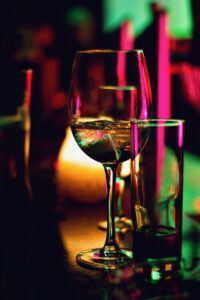 One 12-ounce beer
One 5-ounce glass of wine
One 1.5-ounce shot of 40% alcohol
Keep in mind that many beers, wines, and shots have high alcohol percentages, so pace yourself accordingly and drink at least one 8-ounce glass of water with every alcoholic beverage.
Additionally, be wary of punches and other drinks that cannot be easily measured. If you decide to indulge in spiked apple cider or a bowl full of eggnog, ask the host how much alcohol has been added and start with a small serving.
Learn to Say "No"
"No" is a powerful word, especially when it comes to alcohol consumption. Many people find it difficult to pass up free drinks at a bar or say no to a close friend's offer at a holiday party, but setting and sticking to a limit will keep you and everyone else on the road safe. At the end of the day, turning down a drink at the end of the night could be the difference between making it home safely and having to contact a DUI lawyer in New York City.
Know the Law in NYC
New York distinguishes between driving while ability is impaired (DWAI) and driving under the influence (DUI). The former occurs when a motorist's ability to drive is impaired by alcohol but their blood-alcohol content (BAC) is below .08%. The latter occurs when a motorist's BAC is at or exceeds .08%. Both of these charges are serious and come with penalties. If you have trouble monitoring your drinking, invest in a pocket breathalyzer that you can use before you drive.

Do You Need a Criminal Defense Lawyer in New York City?
We hope that today's post will help you stay safe this holiday season. Should you need to speak with a DUI lawyer in New York City, the Law Office of Lisa Pelosi can help. We have helped hundreds of people navigate the legal system and achieve optimal outcomes, we offer free consultations for anyone facing charges. Call today for the legal representation you deserve.