If you or someone in your life has been charged with driving under the influence (DUI), then you probably have a few questions about what to expect, especially when it comes to finances. Of course, no two DUI convictions will be identical in terms of how much they cost, but today's post can provide you with a few costs associated with DUI charges that many people do not know about.
If you are facing a DUI charge in New York, then contact the Law Office of Lisa Pelosi. As an experienced DUI lawyer in New York City, Lisa will fight for your rights and do everything she can to help you achieve an optimal outcome in your case. Call or email our office right away for a free case evaluation.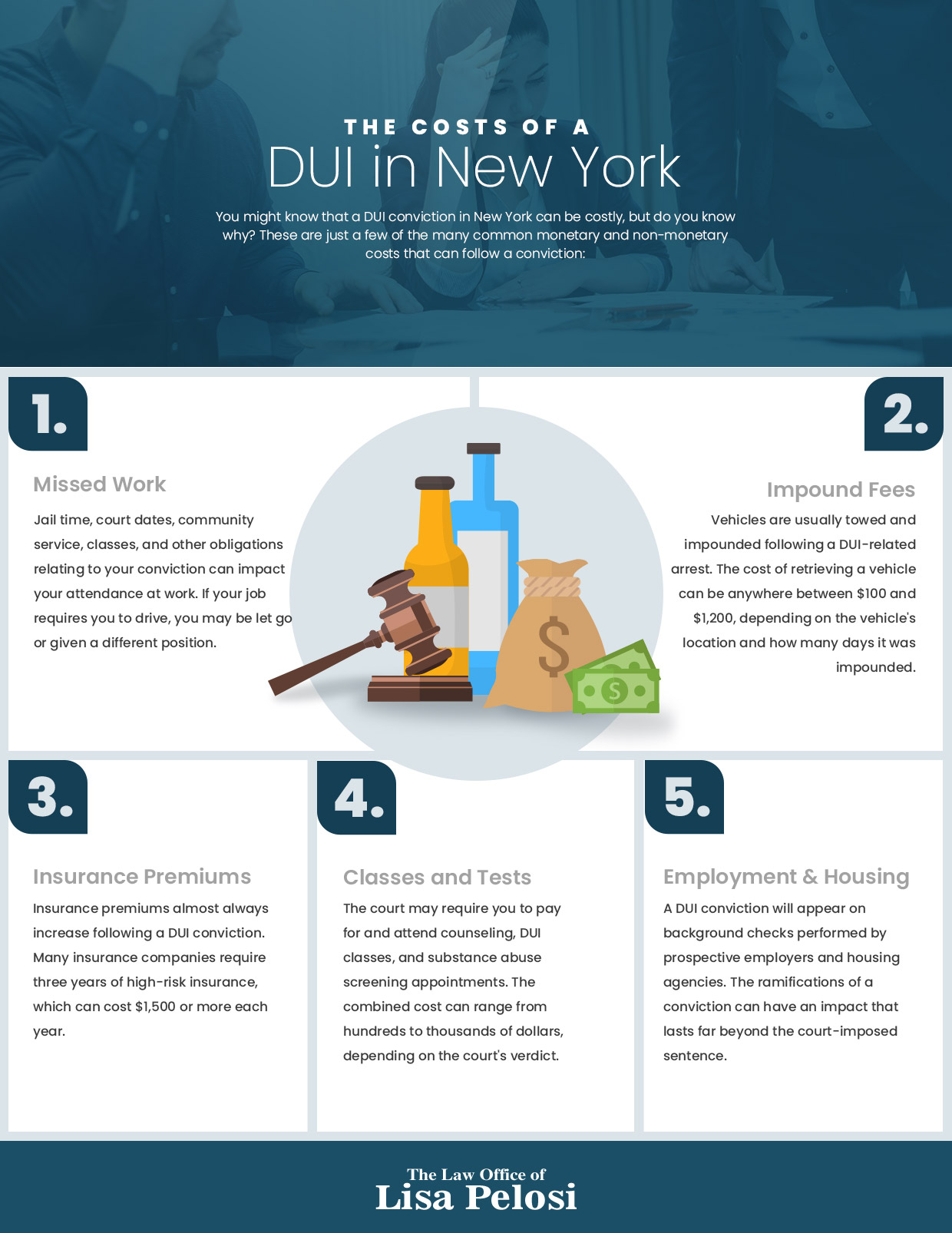 In addition to fines and legal fees, the following list contains some, but not all, of the possible costs associated with a DUI conviction in New York:
Missed Work: Depending on the nature of your work, jail time, court dates, community service, and other court-imposed obligations can all prevent you from going to work and earning a full paycheck.
Impound Fees: Vehicles are almost always towed and impounded following a DUI arrest. Retrieving a vehicle can cost anywhere from $100 to $1,200, depending on where the arrest occurs and how long the vehicle was impounded.
Bail: A first-time DUI conviction is a misdemeanor offense in New York, but another conviction within 10 years is classified as a felony. Bail amounts vary according to the charge and a person's criminal record. Misdemeanor DUI bonds can cost up to $10,000; felony DUI bonds can cost up to $50,000.
Classes: The court may deem it necessary that you attend substance abuse classes, which can sometimes cost $50 or more per class. Additionally, you may need to pay for counseling and ongoing substance screening tests.
License Fees: Your license may be suspended or revoked following a conviction. In order to get your license back after it has been revoked, you will need to pay a $100 application fee, pay a civil penalty, and pass the state's driving test, which includes visual and written testing.
Insurance Premiums: A DUI can cause your insurance premium to increase significantly. Each insurance company has different policies, but many insurers will require high-risk insurance for three years. This has been estimated to cost approximately $1,500 per year.
Indirect Costs: There are many indirect and non-monetary costs associated with a DUI conviction. If you hold a job that requires you to drive, for instance, you may be let go or forced to take a different position that pays less. If you have children, you may have to pay someone else to drive them to and from school, and you will likely need to use public transportation until your license has been reissued.
A conviction can also reflect negatively on background checks, which are almost always performed by prospective employers and housing agencies.

As we mentioned at the beginning of this post, each case differs and will vary in cost. However, these are common fines, fees, and non-monetary costs associated with DUI convictions in New York that everyone should know about.
If you are reading today's post because you have been charged with a DUI, know that help is available. Lisa Pelosi has more than 30 years of experience as a criminal defense lawyer in New York, and she will advocate on your behalf as your dedicated DUI lawyer. The Law Office of Lisa Pelosi has helped hundreds of people just like you, so do not wait another day to schedule your free consultation.